Electronics Illustrated
was a hobbyist and experimenters' magazine started in May 1958 by Fawcett Publications, who published Mechanix Illustrated. The magazine was published monthly from 1959 to 1961 then bi-monthly until November 1972.
Electronics Illustrated ended with the November 1972 issue and some of the content was continued in Mechanix Illustrated. The circulation was 300,000 but Fawcett claimed there was a shrinking market for electronics magazines and they wanted to focus on the larger Mechanix Illustrated audience of 1.5 million readers. This followed Ziff-Davis's merger of Electronics World with Popular Electronics in January 1972.
Special Edition
Electronics Guide
How-To Book of Electronics
Radio Repair 1967 Guide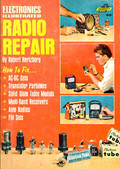 Click to view special editions
Year
J
F
M
A
M
J
J
A
S
O
N
D
1958
Began publication May 1958
1959
1960
1961
Year
Jan
Mar
May
Jul
Sep
Nov
1962
1963
1964
1965
1966
1967
1968
1969
Year
Jan
Mar
May
Jul
Sep
Nov
1970
1971
1972
Year
Jan
Mar
May
Jul
Sep
Nov