This is a collection of magazines, publications and catalogs about Citizens Band Radio.

---
S9
S9 Magazine was founded by Cowan Publishing to serve the rapidly growing CB enthusiast market. It included articles by authors like Tom Kneitel, Dan Stoner, Herb Friedman, Lee Aurick, Ed Noll, Len Buckwalter and others.
The magazine's content included basic electronics, equipment reviews and club activities.
The first issue was in July, 1962 and it ceased publication at the end of 1982, transitioning to a new magazine, Popular Communications.
S9's Successor Magazine
Popular Communications replaced S9 in 1982

Click to View Issues
Help us find more issues!
Contact this site if you have any for loan or donation.
Link to More Issues
Website with further issues.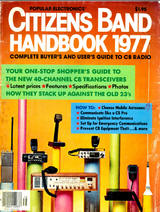 1970 Popular Electronics
"Citizens Band Handbook"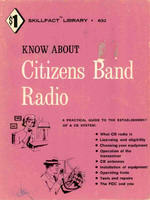 Associated Press CB Radio Guide 1977
Sams CB Radio for the Family 1976
Skillfact "Know About Citizens Band Radio"
S9 Magazine
CB Citizens Band
CB Magazine
CB Horizons
CB World
Breaker on the Site (UK)
QSO Magazine from France
CB Radio from the UK
Secret CB
| | |
| --- | --- |
| | Secret CB Started in November 1977 with a run of 29 volumes, it was a hacking magazine and covered all CB radios of the time and showed in great detail (amongst other things) how to cover more channels or add more power to your standard 40 channel CB radio, the magazine was sold by Selman enterprises who went under in September 1990 just before volume 30 was released, |
CB Miscellaneous Books and Booklets

CB Radio Servicing Guide
1974
Part 15 Handbook & Callbook 1964
Citizens Band Radio Digest
Bradley 1976
The Complete CB Radio 1981
Nichols
CB Yearbook
1968
CB 81
Yearbook
CB 82
Yearbook
CB Euro Review 1981
CB Scotland
Two Issues



Hobby Electronics
'79 Special
France CB
June 1994
Practical CB
1982
Radio CB
1982 Oct.
France
Citizens Band Radio
Book



Dummy's Guide
1976
Which rig
Summer 1982
CB Rules & Regulations 1976
How to Use CB Radio - FCC 1967
Fidelity Guide to Legal CB 1981
Catalogs Contributed by Jeff "King Kong" in Mobile AL
CB Equipment Catalogs

Avanti
Antennas
Wilson
Antennas
Amateur Electronic Supply
1971 Catalog
Best Book on CB
1976
Catalogs Contributed by Jeff "King Kong" in Mobile AL